With the French Open a little over a month away, all British hopes will once again be placed solely on Andy Murray.
After an agonising five set defeat to Novak Djokovic at the Australian Open in January, many experts have said the gap between him and the three greatest players (Djokovic, Rafael Nadal and Roger Federer) is closing; however going into his least favourite grand slam event, can we really expect Murray to reign victorious at Roland Garros?
In last year's event Murray was a semi-finalist, his best run to date at the French Open, and will no doubt go into the fortnight as one of the tournament favourites. However the way Nadal comfortably overcame the Scot only exposed how much stronger Nadal is on clay, and having won six of the seven French Open's he has attended the 'King of Clay' will no doubt be the man to beat again.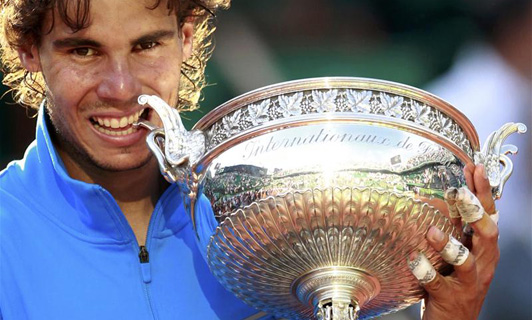 Nadal came from behind to beat Federer in last year's final by three sets to one
To say Djokovic has had a brilliant 16 months would be quite the understatement, having won four of the five available grand slams in that time, with last year's French Open the only one to elude him; meaning many expect the Serbian to make history by completing a personal grand slam at Roland Garros this year.
Federer, arguably the most gifted player of all time, has had to play second fiddle to the likes of Djokovic and Nadal in recent months, and after going a year without a grand slam victory, something almost unimaginable a few years ago, the former World number one will want to remind the people that he hasn't lost any of his ability.
As for the rest, it's unlikely anyone will realistically challenge for the title; however in recent Grand Slams the likes of Juan Martin Del Potro and Jo Wilfred-Tsonga have gone far deep into the second week. For me however this is only to be one winner and that is Rafael Nadal, meaning Murray's wait will have to go on.
French Open odds (via Ladbrokes)
Rafael Nadal evens
Novak Djokovic 6/4
Roger Federer 10/1
Andy Murray 14/1
Juan Martin Del Porto 16/1