Signed from Sporting Lisbon to replace David Beckham, after a slow start, Cristiano Ronaldo became one of Manchester United's greatest ever players.
After the 2006 World Cup Cristiano Ronaldo really became a Manchester United legend, in those three seasons he scored an incredible 67 Premier League goals in just 99 matches and in them three seasons in all competitions an incredible 91 goals in just 155 games.
The boy has everything: dribbling ability; shooting with either foot; crossing ability; set piece technique; he can even head the ball. And if Lionel Messi wasn't around, nobody in world football would be able to compare with his match winning ability.
Three Premier League titles to go with a League Cup, F.A Cup and Champions League success definitely ensure Ronaldo is in the top three.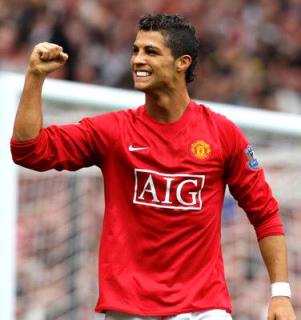 2) Dennis Bergkamp (Arsenal 1995-2007)
Having arrived from a poor spell in Italy with Inter Milan, Bergkamp became a legend not only at Arsenal but in England for an incredible 12 years with the Gunners.
Technically amazing, he could score goals no 'one could dream of. Famously he once was finished in third, second and first place in the BBC's goal of the month competition after his two of his incredible hat-trick against Leicester, as well as a strike vs. Southampton were all voted into the top three goals.
During his time at the club Bergkamp won Three Premier League titles, which included two domestic doubles and the invincible season. Bergkamp's fear of flying often prevented him from playing in Europe for Arsenal; however he did play in the UEFA Cup 2000 final vs. Galatasary, a game the Gunners lost on penalties.
120 goals during his time at Arsenal as well as countless assists ensure the Dutchman is second.
1) Eric Cantona (Leeds United 1992, Manchester United 92-97)
Eric Cantona started his English life of at Leeds when he won the 1992 First Division title.
However he is most certainly more remembered for his time at Manchester United where the Frenchman won four Premier League crowns at the Manchester club as well as two F.A Cups, one of which he so famously scored the winner against Liverpool in a dull final.
A controversial figure Cantona once 'kung-fu' kicked a Crystal Palace fan after being sent off at Selhurst Park in 1995. Suspended until the end of the season because of this action, Manchester United lost the League title to big-spenders Blackburn, the only time Cantona didn't win the title in his five seasons at the club.
His comeback season saw United trail Newcastle by 10 points going into Christmas, however in typical United fashion the club hauled down Kevin Keegan's Newcastle, as Cantona inspired Manchester United to another double.
In his final season at Old Trafford, before he retired at the young age of 30, Cantona again won the Premier League title.